Kia Cadenza: Mirrors / Erasing HomeLink® buttons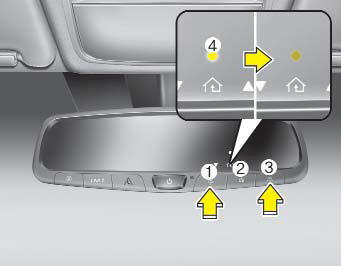 1. Press and hold the button (1) and (3) simultaneously.
2. The indicator (4) is turned continuously ON in orange for about 10 seconds.
3. Then the indicator (4) color changes to Green and flashes rapidly. Release the buttons once the green indicator flashes.
4. Now HomeLink button (1), (2) and (4) memories are all cleared. OYG040643N
NVS®is a registered trademark and Z-Nav™ is a trademark of the Gentex Corporation, Zeeland, Michigan.
HomeLink®is a registered trademark owned by Johnson Controls, Incorporated, Milwaukee, Wisconsin.