Kia Cadenza: Engine Control System / Heated Oxygen Sensor (HO2S) Description and Operation
Heated Oxygen Sensor (HO2S) consists of the zirconium and the alumina and is installed on upstream and downstream of the Warm-up Catalytic Converter (WCC).
After it compares oxygen consistency of the atmosphere with the exhaust gas, it transfers the oxygen consistency of the exhaust gas to the ECM. When A/F ratio is rich or lean, it generates approximately 1V or 0V respectively. In order that this sensor normally operates, the temperature of the sensor tip is higher than 370°C (698°F). So it has a heater which is controlled by the ECM duty signal.
When the exhaust gas temperature is lower than the specified value, the heater warms the sensor tip.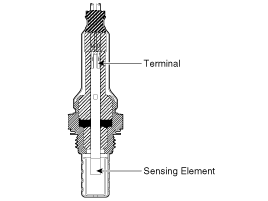 Removal [Knock Sensor #1 (Bank 1)] 1. Turn the ignition switch OFF and disconnect the battery negative (-) cable. 2. Disconnect the knock sensor connector (A). 3. Remove the intake man ...
Specification A/F Ratio (λ)Output Voltage(V)RICHMin. 0.8LEANMax. 0.1 ItemSpecificationHeater Resistance (Ω)3.3 ~ 4.1[20°C(68°F)] ...
Other information:
Power Flow Chart P,NUD/BLR/B26/B35R/COD/COWC● ▣ Direction of Rotation ▶Lower & Reverse Brake (LR/B) Activation → Overdrive (O/D) Hub Lock → Mid & Rear P/C Lock ▶Input Shaft Rotation → Rear Sun Gear Rotation → Rear Inner Pinion Rotation (Reverse) → Rear Outer P ...
Troubleshooting Ignition System SymptomSuspect AreaRemedyEngine will not start or is hard to start (Cranks OK)Ignition lock switchInspect ignition lock switch, or replace as requiredIgnition coilInspect ignition coil, or replace as requiredSpark plugsInspect spark plugs, or replace as requir ...