Kia Cadenza: Ignition System / Spark Plug Description and Operation
A spark plug is a device for delivering electric current from an ignition system to the combustion chamber of a spark-ignition engine to ignite the compressed fuel/air mixture therein by means of an electric spark, while containing combustion pressure within the engine. A spark plug has a metal threaded shell, electrically isolated from a central electrode by a porcelain insulator.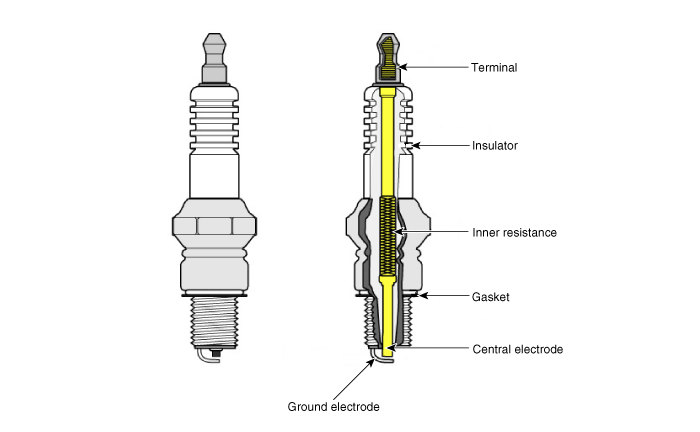 Removal [Ignition Coil #2, #4, #6] 1. Turn the ignition switch OFF and disconnect the battery negative (-) cable. 2. Remove the engine cover. 3. Disconnect the ignition coil connector (A) ...
Specification ItemSpecificationTypeSILZKR7B11Gap1.0 ~ 1.1 mm (0.0394 ~ 0.0433 in.) ...
Other information:
The system will move the driver's seat automatically as follows: • With smart key system - It will move the driver's seat rearward when the engine start/stop button is changed to the OFF position. - It will move the driver's seat forward when the engine start/stop button is cha ...
By selecting as 'Settings →Vehicle → Lights → High Beam Assist' on the instrument cluster infotainment system at engine on, you may select or release the system. The settings will remain even if engine off and on. Operating condition 1.Place the light switch in the AUTO posit ...