Kia Cadenza: Engine Control System / Camshaft Position Sensor (CMPS) Description and Operation
Camshaft Position Sensor (CMPS) is a hall sensor and detects the camshaft position by using a hall element.
It is related with Crankshaft Position Sensor (CKPS) and detects the piston position of each cylinder which the CKPS can''t detect.
The two CMPS are installed on engine head cover of bank 1 and 2 respectively and uses a target wheel installed on the camshaft. The Cam Position sensor is a hall-effect type sensor. As the target wheel passes the Hall sensor, the magnetic field changes in the sensor. The sensor then switches a signal which creates a square wave.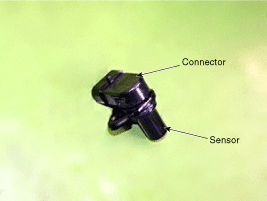 Inspection 1. Check the signal waveform of the CMPS and CKPS using the GDS. Specification: Refer to "Wave Form" Removal 1. Turn the ignition switch OFF and disconnect the battery n ...
Specification ItemSpecificationOutput Voltage (V)High: 5.0VLow: 0.7VAir Gap (mm)0.5 ~ 1.5 ...
Other information:
Removal Removal of the thermostat would have an adverse effect, causing a lowering of cooling efficiency. Do not remove the thermostat, even if the engine tends to overheat. 1. Drain engine coolant so its level is below thermostat. (Refer to Cooling System - ...
Reset the sunroof when: - The battery is discharged or disconnected or the sunroof fuse has been replaced or disconnected. - The sunroof control switch is not operating correctly. Reset the sunroof as described below: 1. Start the engine. 2. Close the sunshade and sunroo ...