Kia Cadenza: Engine Control System / Variable Intake Solenoid (VIS) Valve Description and Operation
Variable Intake manifold Solenoid (VIS) valves are installed on the intake manifold (VIS Valve 1) and the surge tank (VIS Valve 2). These VIS valve 1 and 2 control vacuum modulators which activate valves in the intake manifold and the surge tank. These valves are opened or closed by ECM according to engine condition (Refer to below table).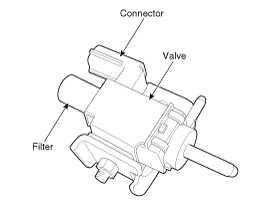 Inspection 1. Turn the ignition switch OFF. 2. Disconnect the OCV connector. 3. Measure resistance between the OCV terminals 1 and 2. 4. Check that the resistance is within the specifi ...
Specification ItemSpecificationCoil Resistance (Ω)30.0 ~ 35.0 [20°C(68°F)] ...
Other information:
Removal 1. Disconnect the negative (-) battery terminal. 2. Remove the luggage room lamp (B) when prying the hole (A) with a flat-up screwdriver. 3. Remove the luggage room lamp bulb in case of necessity. Installation 1. Install the luggage room lamp assembly after connecting the la ...
Component Location 1. Driveshaft(LH)2. Circlip3. Inner shaft bearing bracket assembly4. Circlip5. Driveshaft(RH)6. Components 1. BJ Assembly2. Clip3. BJ Boot Band4. BJ Boot5. Dynamic Damper Band6. Dynamic Damper7. Shaft8. UTJ Boot Band9. UTJ Boot10. Spider Assembly11. Clip12. UTJ Ca ...