Kia Cadenza: What to do in an emergency / In case of an emergency while driving
If the engine stalls at a crossroad or crossing
If the engine stalls at a crossroad or crossing, set the shift lever in the N (Neutral) position and then push the vehicle to a safe place.
If you have a flat tire while driving
If a tire goes flat while you are driving:
1. Take your foot off the accelerator pedal and let the vehicle slow down while driving straight ahead. Do not apply the brakes immediately or attempt to pull off the road as this may cause a loss of control. When the vehicle has slowed to such a speed that it is safe to do so, brake carefully and pull off the road. Drive off the road as far as possible and park on firm level ground. If you are on a divided highway, do not park in the median area between the two traffic lanes.
2. When the vehicle is stopped, turn on your emergency hazard flashers, set the parking brake and put the transmission in P.
3. Have all passengers get out of the vehicle. Be sure they all get out on the side of the vehicle that is away from traffic.
4. When changing a flat tire, follow the instruction provided later in this section.
If the engine stalls while driving
1. Reduce your speed gradually, keeping a straight line. Move cautiously off the road to a safe place.
2. Turn on your emergency flashers.
3. Try to start the engine again. If your vehicle will not start, contact an authorized Kia dealer or seek other qualified assistance.
✽ NOTICE
If there was a check engine light and loss of power or stall and if safe to do so, wait at least 10 seconds to restart the vehicle after it stalls. This may reset the car so it will no longer run at low power (limp home) condition.
Warning triangle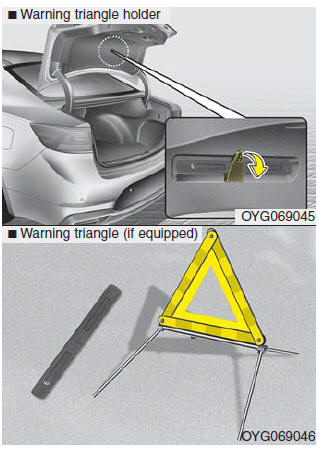 ✽ NOTICE
Warning triangle is an option item by sales countries.
Usage
Keep this warning triangle at the most available place in the vehicle such as in the trunk or your preference place.
Always check the availability and the place of the warning triangle before driving your vehicle.
Installation
Take out the warning triangle from the case and stretch out left and right wings to make triangle shape. Crossing the wings each other and fix them into coupling groove.
Stretch out 4 poles from the bottom of warning triangle to stand it.
Place the warning triangle at the certain distance behind from your vehicle so that approaching vehicle's drivOYG069045 er can easily aware of your vehicle.
CAUTION
For your safety, pay attention to nearby passing vehicles when you install the warning triangle.