Kia Cadenza: Engine Control System / Intake Air Temperature Sensor (IATS) Description and Operation
Intake Air Temperature Sensor (IATS) is included inside Barometric Pressure Sensor (BPS) and detects the intake air temperature.
To calculate precise air quantity, correction of the air temperature is needed because air density varies according to the temperature. So the ECM uses not only BPS signal but also IATS signal. This sensor has a Negative Temperature Coefficient (NTC) thermistor and it''s resistance changes in reverse proportion to the temperature.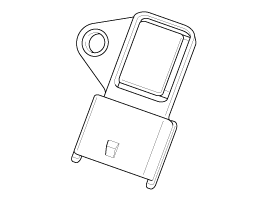 Inspection 1. Connect the GDS on the Data Link Connector (DLC). 2. Measure the output voltage of the BPS at idle and IG ON. Specification: Refer to "Specification" Removal 1. Turn ...
Specification TemperatureResistance (kΩ)°C°F-40-4040.93 ~ 48.35-20-413.89 ~ 16.030325.38 ~ 6.0910503.48 ~ 3.9020682.31 ~ 2.57401041.08 ~ 1.21601400.54 ~ 0.66801760.29 ~ 0.34 ...
Other information:
All tire pressures (including the spare) should be checked when the tires are cold. "Cold Tires" means the vehicle has not been driven for at least three hours or driven less than 1 mile (1.6 km). Recommended pressures must be maintained for the best ride, top vehicle handling, an ...
Removal 1. Remove the LH/RH cylinder head cover. (Refer to Cylinder Head Assembly - "Cylinder Head Cover") 2. Remove the lower oil pan. (Refer to Lubrication System - "Oil Pan") 3. Remove the drive belt auto tensioner. (Refer to Timing System - "Drive Belt Tensioner") 4. Remove ...