Kia Cadenza: Engine Control System / Accelerator Position Sensor (APS) Description and Operation
Accelerator Position Sensor (APS) is installed on the accelerator pedal module and detects the rotation angle of the accelerator pedal. The APS is one of the most important sensors in engine control system, so it consists of the two sensors which adapt individual sensor power and ground line. The second sensor monitors the first sensor and its output voltage is half of the first one. If the ratio of the sensor 1 and 2 is out of the range (approximately 1/2), the diagnostic system judges that it is abnormal.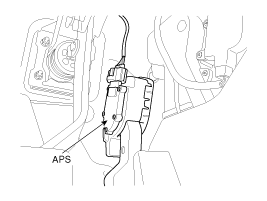 Inspection 1. Turn the ignition switch OFF. 2. Disconnect the OTS connector. 3. Remove the OTS. (Refer to "Removal") 4. After immersing the thermistor of the sensor into engine coolant ...
Specification AcceleratorPositionOutput Voltage (V)APS1APS2C.T0.7 ~ 0.80.29 ~ 0.46W.O.T3.85 ~ 4.351.93 ~ 2.18 ...
Other information:
Description The smart cruise control system allows a driver to program the vehicle to control the speed and following distance detecting the vehicle ahead without depressing the brake pedal and the accelerator pedal. 1. Cruise speed control: The vehicle maintains the selected speed if the ...
Inspection [Steering Remote Control Switch] 1. Check the audio remote control switch for resistance between terminals in each switch position. [Audio (LH)] SwitchConnectorterminalResistance(±5%)Seek up2-7430 ΩSeek down2-71.1 kΩMode2-72.11 kΩMute2-73.11 kΩVolume up2-74.61 kΩVolume ...