Kia Cadenza: Engine Control System / ETC (Electronic Throttle Control) System Description and Operation
The Electronic Throttle Control (ETC) System consists of a throttle body with an integrated control motor and throttle position sensor (TPS). Instead of the traditional throttle cable, an Accelerator Position Sensor (APS) is used to receive driver input. The ECM uses the APS signal to calculate the target throttle angle; the position of the throttle is then adjusted via ECM control of the ETC motor. The TPS signal is used to provide feedback regarding throttle position to the ECM. Using ETC, precise control over throttle position is possible; the need for external cruise control modules/cables is eliminated.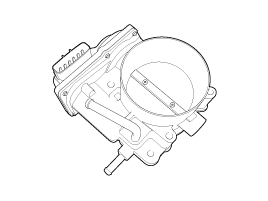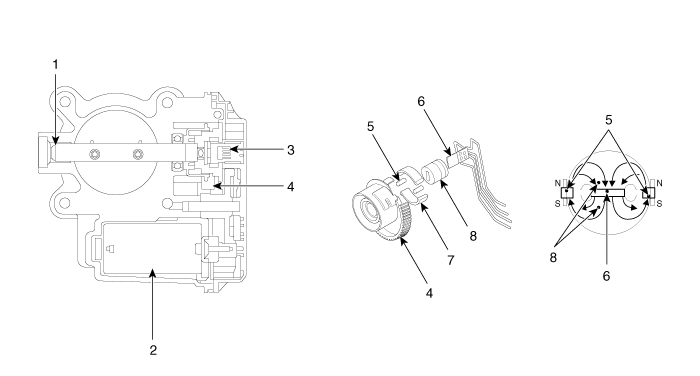 1. Dry bearing




2. DC motor




3. Non-contact hall sensor




4. Gear




5. Magnet




6. Hall IC




7. Yoke




8. Stator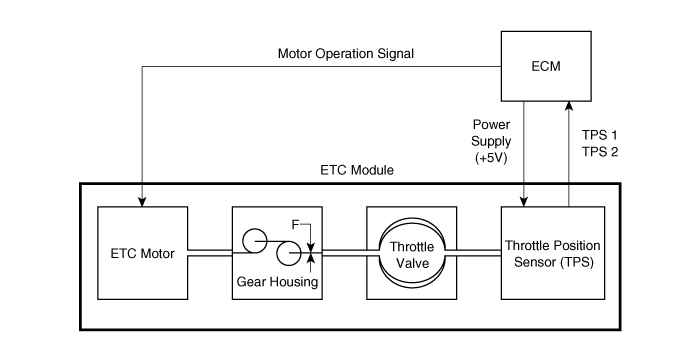 Removal 1. Turn the ignition switch off and disconnect the battery negative (-) cable. 2. Disconnect the injector drive box (IDB) connector (A). 3. Remove the air cleaner assembly. (Refe ...
Fail-Safe Mode ItemFail-SafeETC MotorThrottle valve stuck at 7°TPSTPS 1 faultECM looks at TPS2TPS 2 faultECM looks at TPS1TPS 1,2 faultThrottle valve stuck at 7°APSAPS 1 faultECM looks at APS 2 ...
Other information:
Description 1. Mode (1) Virgin State • The receiver as a sole part is shipped in this state. Replacement parts should therefore arrive in this state. • In this state, there is no Auto-Location, no sensor wake-up, no sensor monitoring and no DTC monitoring.. • ...
Description The used radar frequency of BSD is two, "North America region" and "Except North America region". If it replaces BSD unit, BSD unit has to perform the procedure of variant coding. BSD Variant Coding 1. Select the "BSD Variant Coding" procedure in BSD system. 2. Perform the "BS ...