Kia Cadenza: Hydraulic System / Oil Pump Description and Operation
The oil pump is built-in as a single unit with the 26 Brake chamber. Rotation of the pump builds the hydraulic pressure needed for the lubrication of the various parts of the transaxle and operation of the clutch and brakes. The oil also circulates through the torque converter and the cooler.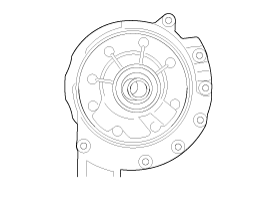 Components Location 1. Automatic transaxle2. Valve body assembly3. Oil pump assembly ...
Components 1. Reaction shaft support assembly2. Oil pump housing3. Driven gear4. Drive gear5. Oil seal6. Bush-Housing7. Reaction shaft8. Bush- Reaction shaft9. Sleeve10. Bolt Oil Pump Operatio ...
Other information:
Inspection 1. Press the OFF switch more then 4 times within 2 seconds while pressing the MODE switch. DisplayFail description00Normal50Cluster ionizer fault * Diagnostic procedure refer to DTC code. Replacement 1. Disconnect the negative (-) battery terminal. 2. Remove the crash ...
The temperature will increase to the maximum (HI) by raise the toggle switch to the extreme up. The temperature will decrease to the minimum (Lo) by depress the toggle switch to the extreme down. When raise and depress the toggle switch, the temperature will increase or decrease by 1 ...