Kia Cadenza: Engine Control System / Rail Pressure Sensor (RPS) Description and Operation
Rail Pressure Sensor (RPS) is installed on the delivery pipe and measures the instantaneous fuel pressure in the delivery pipe. The sensing element (Semiconductor element) built in the sensor converts the pressure to voltage signal. By using this signal, the ECM can control correct injection amount and timing and adjusts the fuel pressure with the fuel pressure regulator valve if the target pressure and the actual pressure calculated by the RPS output signal are different.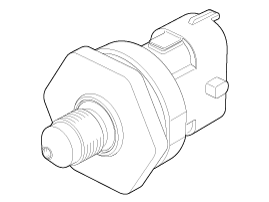 Inspection 1. Turn the ignition switch OFF. 2. Disconnect the HO2S connector. 3. Measure resistance between the HO2S terminals 3 and 4. 4. Check that the resistance is within the speci ...
Specification Pressure [MPa (kgf/cm², psi)]Output Voltage (V)0 (0, 0)0.510 (102, 1450)2.520 (204, 2900)4.5 ...
Other information:
Specifications ItemsSpecificationsRated voltageDC 12VOperating voltageDC 9 ~ 16VOperating temperature-22°F ~ 167°F (-30°C ~ 75°C)Dark currentKeyless type : Max. 4.5mAStandard : Max. 3.0mA ...
System Circuit Diagram Terminal Function HousingPinFunctionWire colorPadAGNDBackBHEATERYellowCNTC+Back / RedDNTC-BackRemotecontrolAGNDBackBBATRedCLEDGreenDSWITCHWhite ...