Kia Cadenza: ESC(Electronic Stability Control) System / Yaw-rate and G Sensor Description and Operation
When the vehicle is turning with respect to a vertical axis the yaw rate sensor detects the yaw rate electroniclly by the vibration change of plate fork inside the yaw rate sensor.
If yaw velocity reaches the specific velocity after it detects the vehicle''yawing, the ESP control is reactivated.
The later G sensor senses vehicle''s lateral G. A small element inside the sensor is attached to a deflectable leverarm by later G.
Direction and magnitude of lateral G loaded to vehicle can be known with electrostatic capacity changing according to lateral G.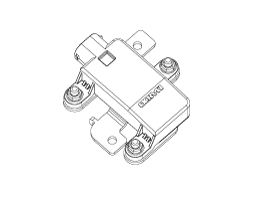 Specifications
Description




Specification




Remarks




Operating voltage




10 ~ 16V






Output signal




CAN Interface






Operating temperature




-40 ~ 85°C (-40 ~ 185°F)






Yaw-rate sensor




Measurement range




-75 ~ 75°/sec






Frequency response




15 ~ 45Hz






Lateral G sensor




Measurement range




-14.715 ~ 14.715m/s²






Frequency response




50Hz ± 60% (±3dB)





External Diagram

Removal 1. Remove the rear wheel and tire. Tightening torque: 88.3 ~ 107.9 N.m (9.0 ~ 11.0 kgf.m, 65.1 ~ 79.6 lb-ft) 2. Remove the rear wheel speed sensor mounting bolt (A). Tightenin ...
Removal 1. Turn ignition switch OFF and disconnect the negative (-) battery cable. 2. Remove the floor console. (Refer to the Body - "Console") 3. After removing the bolt (A), remove the ...
Other information:
Removal 1. If the compressor is marginally operable, run the engine at idle speed, and let the air conditioning work for a few minutes, then shut the engine off. 2. Disconnect the negative cable from the battery. 3. Recover the refrigerant with a recovery/charging station. 4. ...
Description An ignition coil is an induction coil in an engine''s ignition system which transforms the battery''s low voltage to the high voltage needed to create an electric spark in the spark plugs to ignite the fuel. Coils have an internal resistor while others rely on a resistor wire ...