Kia Cadenza: Hydraulic System / Valve Body Description and Operation
The valve body is essential to automatic transaxle control and consists of various valves used to control the oil feed from the oil pump. Specifically, these valves consist of pressure regulator valves, oil redirection valves, shift valves, and manual valves. The body also features electronic solenoid valves that ensure smooth gear changes.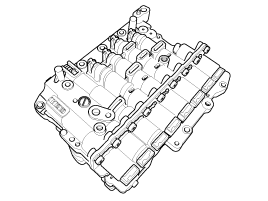 Service Adjustment Procedure Oil level Check When checking the oil level, be careful not to enter dust, foreign matters, etc. from fill hole. 1. Remove the ey ...
Components Location 1. PCV adjust screw2. Solenoid valve3. Oil temperature sensor4. Accumulator5. Low & reverse brake(LR/B) pressure flow hole6. Under drive brake (UD/B) pressure flow hole ...
Other information:
Specifications IMS Electrical System ItemSpecificationRating voltageDC 12VOperating voltageDC 9V ~ 16VOperating temperature-30°C ~ +80°CMaintaining temperature-40°C ~ +85°CMax, humid95%Consumption currentMAX 700mADark currentBelow 2mA Motor Electrical System ItemSpecificationRating ...
Description The output speed sensor is a vital unit that measures the rate of rotation of the transaxle''s turbine shaft and output shaft, and delivers the readings to the Transaxle Control Module(TCM). The sensor provides critical input data that''s used in feedback control, damper clu ...